Warning - superb rogaining ahead!
Updated: 16 October, 2015
The 2015 Australasian Rogaining Championships have been run, won and are done. Congratulations to all of those who took part and, in particular, to our category winners on the day. It turned out to be a tough course, but there was plenty of good stuff to be seen out there - especially if you were lucky enough to get up onto the pagodas with some daylight.
Provisional results are here.
Also of interest to many will be the RouteGadget site kindly set up by Russell Rigby, where you can survey the courses taken by each team and even upload your GPS route. Check it out.
You can also download a copy of the map if you so wish, for your personal viewing pleasure.
---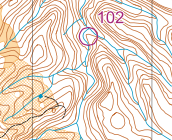 What: 2015 Australasian Rogaining Championships
When: 10-11 October 2015
Where: About 4 hours west of Sydney and 5.5 hours from Canberra
For who: Everyone who enjoys great rogaining country - young, old (ah - we mean *experienced*), novice, sharpshooter...everyone!
Contact: Email Gill Fowler
Brought to you by the NSW Rogaining Association.